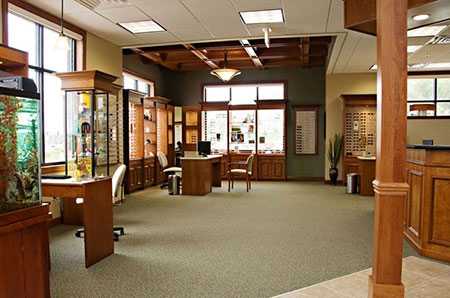 The optical department at Jensen Eyecare Center works with 75 different frame brands from over 15 different manufacturers from around the world to suit the needs and personalities of each patient that we help. With over 700 frames on the boards to choose from, including sports frames, designer labels, sunglasses, safety frames, and wearable classics, you are sure to find the perfect frame!
Beyond the frame selection, the optical department also works with the newest technology in lens designs. We strive to stay educated on the most current scientific advances in the optometry field, ensuring that you will see the best that you have ever seen. We are dedicated to offering our patients the best quality of lenses, at a price that makes it accessible to everyone. Please feel free to call at any time to ask about the newest technologies available!
If you have any questions regarding our optical department, or if there is a specific frame that you would like to see in our office, please feel free to contact the optical lab manager at any time.
Jill Kennedy: lab@jenseneyecare.com
[et_pb_gallery_nolink admin_label="Gallery – No Link" gallery_ids="2833,2831,2830,2829,2828,2827,2826,2825,2824,2823,2822,2821,2820,2832,2834,2835,2836,2837,2838,2839,2840,2841,2843,2842,2844,2845,2846,2847,2848,2849,2850,2851,2852,2853,2854,2856,2855,2857,2858,2859,2860,2861,2862,2863,2864,2866,2865,2867,2868,2869,2870,2871,2872″ fullwidth="off" posts_number="53″ show_title_and_caption="off" show_pagination="off" background_layout="light" auto="off" caption_font_size_tablet="51″ caption_line_height_tablet="51″ title_font_size_tablet="51″ title_line_height_tablet="2″ use_border_color="off" border_color="#ffffff" border_style="solid" /]
Give us a call or contact us through our online form.