Our Eye Care Services Include:
Comprehensive eye exams
InfantSEE exams – Free dilated exam for children between 8-12 months old
Diabetic eye exams
Diagnosis and management of glaucoma
Diagnosis and management of macular degeneration
Dry eye evaluation and treatment
Treatment of acute eye infections or injuries – including foreign body removal
Contact lens fitting
Eyewear – including the latest lens technology and trend-setting frame selection
We are providers for the following insurance plans:
Avesis
Wellmark BCBS
Medicare
Eyemed (Dr. Becky Borkovec)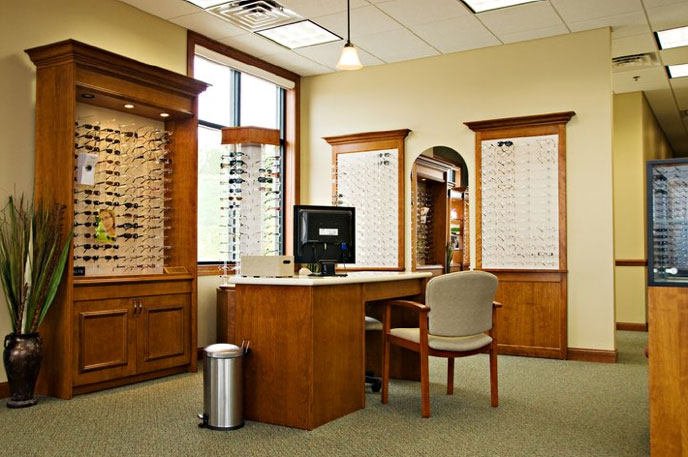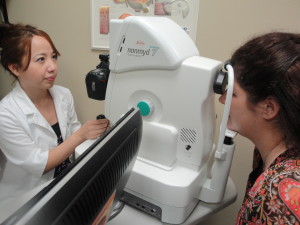 Equipment in the Pre-test room
We strive to use state-of-the-art technology while taking care of our patients.
Below is a list of the technology we have available at Jensen Eyecare Center.
Optomap digital retinal imaging – this may take the place of dilation in some patients
OCT (optical coherence tomography) – used to view the retina on a cellular level. This is used in the diagnosis and treatment of glaucoma, diabetic retinopathy, macular degeneration and other neurological eye conditions.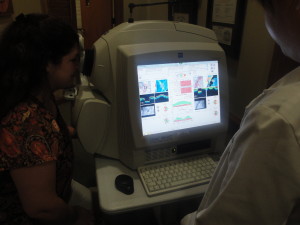 Pre-testers Mon and Tara demonstrating the OCT
Tonopen or Icare Tonometer – This is a small hand-held tool used to measure the internal pressures of the eye, which helps us diagnose glaucoma. Some patients may like that this takes the place of the "puff of air" test.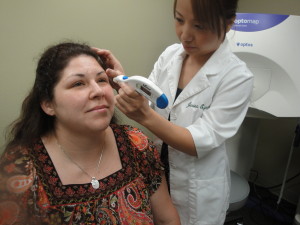 Pre-testers Mon and Tara demonstrating the Tonopen
Humphrey FTD Screening Visual Field – this machine checks all areas of a patient's field of view for irregularities. Jensen Eyecare Center uses this equipment as a standard of care for all patients over the age of 40.
Humphrey Field Analyzer II – this instrument gives us a very detailed look into the quality of a patient's peripheral vision. This aides us in the diagnosis and management for conditions such as glaucoma, retinal conditions and neurological conditions affecting the vision.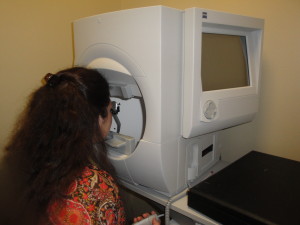 Demonstrating the Humphrey Field Analyzer
Lenses
Customized Digital lens technology from leading manufacturers such as Shamir, Zeiss and Essilor
Partners with Crizal and Transitions to provide the newest advancements in lens coatings
For more information on lenses, visit our optical page.
Give us a call or contact us through our online form.